Lutheridge Day Camp June 5-9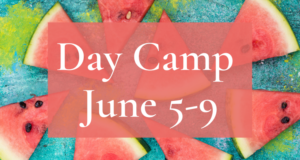 Day Camp is planned for June 5-9, for youth who have completed grades Kindergarten to 5th. (Opportunity for 3-6 year olds listed below!) Registration is required.
Day Camp is offered by Lutheridge, our fantastic Lutheran camp. Camp staff, together with folks from our church including Pr. Stephen, will lead the experience. The camp is hosted at Messiah Lutheran Church (6900 Kingston Pike). We will begin at 9:00 am (drop off starts at 8:45 am) and conclude at 4:00 pm, Monday through Thursday.  Thursday evening there will be a closing program for parents. On Friday the week concludes at noon.
In addition to Day Camp, we will be offering a PreK camp for children 3-6 years old and potty trained. It will be from 9:00 am to noon-ish (final time will be determined by the planning group.) PreK kids will be part of the Lutheridge opening morning watch but break up with a group of volunteers from the churches to have their own lessons and activities.
The purpose of the Day Camp is to help your child(ren) grow in faith. The key to Day Camp is the camp staff.  Some of the special resources they bring include: music, arts and crafts, games, Bible study, and nature programs. They also bring a great love of children and contagious enthusiasm for sharing their faith. Having "cool college kids" witness to the power of Jesus' love in their lives leaves a lasting impression. Plus, they are tons of fun too!
The cost is only $150, space is limited, please contact the church office today to get signed up 865.690.9201
Vacation Bible School July 10-14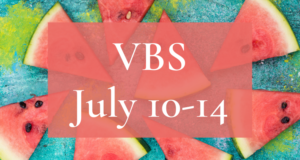 The theme this year is "Come to the Water." Vacation Bible School will be held this summer on July 10-14, from 9:00 a.m.-12:00 p.m. every day except Friday when it will end at 11:00 a.m. Put this on your calendar now, so you do not sign up for any other camps, and your children can attend this fun week of fellowship and learning. Ages 3 (potty trained) and up. VBS is FREE.
Register now please contact the church office today to get signed up 865.690.9201, here's the registration form: VBS registration form 2023 – Peace and Good Sam – July 10-14
VBS meets at The Episcopal Church of the Good Samaritan at 625 N. Cedar Bluff Road. This is a collaborative ministry and Pr. Stephen, volunteers from Peace Lutheran, and kids from Peace Lutheran will be there all week.