Vacation Bible School July 10-14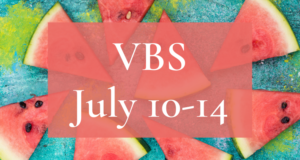 The theme this year is "Come to the Water." Vacation Bible School will be held this summer on July 10-14, from 9:00 a.m.-12:00 p.m. every day except Friday when it will end at 11:00 a.m. Put this on your calendar now, so you do not sign up for any other camps, and your children can attend this fun week of fellowship and learning. Ages 3 (potty trained) and up. VBS is FREE.
Register now please contact the church office today to get signed up 865.690.9201, here's the registration form: VBS registration form 2023 – Peace and Good Sam – July 10-14
VBS meets at The Episcopal Church of the Good Samaritan at 625 N. Cedar Bluff Road. This is a collaborative ministry and Pr. Stephen, volunteers from Peace Lutheran, and kids from Peace Lutheran will be there all week.
Lutheridge Day Camp June 5-9 was a joy filled blast. We had 25 kiddos learning about Jesus, singing songs, enjoying crafts, and growing friendships. We're looking forward to next year! More photos on our Facebook page.