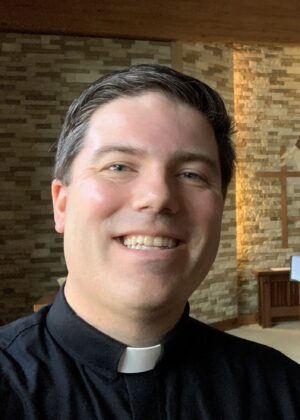 Pastor Stephen was born and raised in Knoxville, TN and loves the Smoky Mountains. He has served Lutheran congregations in Amarillo, TX and Marietta, GA prior to being called as our pastor in 2021. He is really excited about our congregation because of our worship life that is rooted in God's presence through the Word and Sacraments, and because of the way that our community cares for each other and those in need. Pastor Stephen also serves on our Synod's Guatemala Team, helping to support the relationship the congregations of our Synod share with the Lutheran Church in Guatemala.
Pastor Stephen and his wife Betsy enjoy sharing the gift of music together. She is a seminary-trained church musician and also an avid yarn artist. Their daughter Sarah is in elementary school and has a lot of energy and loves their two dogs: Teddi and Sherman.
You will hear Pastor Stephen talk with joy about the gift of Baptism! It is in Baptism that our gracious Heavenly Father frees us from sin and death by joining us to the death and resurrection of our Lord Jesus Christ. It is in those Baptismal waters that the Triune God names us and claims us as children of God. It is in those waters that we are filled with the Holy Spirit and gifted for ministry in the world. Baptism has been an incredible gift to Pastor Stephen, and he loves to talk about it, share it, and invite people to be baptized and to find their own identity deeply rooted in these holy waters of God's grace.
Some of Pastor Stephen's favorite Psalms are Psalm 23, 46, 15, and 150. He also enjoys riding bikes, comics, and Legos.